9 August 2023

to

14 August 2023
Venue:
Stendis Lejeren, Vinderup, Denmark
A five-day festival and meeting at Stendis Lejeren, Vinderup, Denmark
9-14 August 2023
PERFORMANCE PROGRAMME | PARTICIPANTS' PROGRAMME
A work in progress to share?
Work in progress will be shared by participants and invited artists at POETRY IN SPACE – Theatre Women Composition.
Poetry reaches out to the essence. It demands imagination, creativity, rhyme, music, words which open horizons, communication, not necessarily understanding, blood flowing in the body and the rhythms of nature.
Poetry in Action is theatre in its broadest meaning. It transforms ideas into scenes. It creates images in the minds of the spectators. It gives rigour to the craft and surprising outcomes to the results.
Actors and directors compose actions, improvisations, characters, texts, songs, performances. Structures used by other artists (poets, musicians, therapists, singers, producers, painters...) are useful inspiration. Composition is a tool which accompanies the paths of artistic discovery.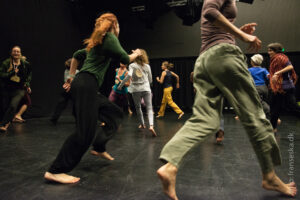 With: Anne Savage (Denmark), Brigitte Cirla (France), Dorthe Kærgaard (Denmark), Else Marie Laukvik (Norway), Geddy Aniksdal (Norway), Julia Varley (UK/Denmark), Katrine Faber (Denmark), Luciana Bazzo (Brazil), Rina Skeel (Argentina), Ulrik Skeel (Denmark)
For 20 participants
Working language: English
Cost: 300 (three hundred) Euro, inclusive of lodging in shared rooms. Food will be prepared and paid collectively.
Deadline for applying: 10th June 2023. Participants will be accepted in order of application. Deadline for payment: 15th June 2023.
INFORMATION: info@transitforum.dk
PROGRAMME
9 August 2023
18:00-19:00 THE DEAF MAN'S HOUSE - Odin Teatret
performance with Else Marie Laukvik, Rina Skeel, Ulrik Skeel
director: Eugenio Barba
10 August 2023
18:00-18:50 THE CASTLE OF HOLSTEBRO - Odin Teatret
performance with Julia Varley
director: Eugenio Barba
20:30-20:50 Voices of Hakka Women, film by Ya-Ling Peng and Suzon Fuks
11 August 2023
18:00-19:00 MY STAGE CHILDREN - Odin Teatret
performance with Else Marie Laukvik
12 August 2023
18:00-19:00 AVE MARIA - Odin Teatret
performance with Julia Varley
director: Eugenio Barba
13 August 2023
18:00-19:00 A CHARACTER THAT CANNOT DIE - Odin Teatret
performance with Julia Varley
Free admission, reservations: info@transitforum.dk
All performances are in English